Great Britain Cent
This weekend we found a large cent with George VI on it. About the size of a half dollar. That's what I thought it was when I found it too.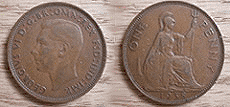 History: George VI (Albert Frederick Arthur George) 1895-1952, king of Great Britain and Northern Ireland (1936-52), second son of George V; successor of his elder brother, Edward VIII.
He attended the royal naval colleges at Osborne and Dartmouth and served in World War I. Later he served in the Royal Air Force. He studied at Cambridge for a time after the war, was created duke of York in 1920, and married (1923) Lady Elizabeth Bowes-Lyon. They had two daughters: Princess Elizabeth (later Queen Elizabeth II) and Princess Margaret.
When Edward VIII abdicated on Dec. 11, 1936, George became king. He and his consort were crowned on May 12, 1937. They made a state visit to France in July, 1938, and an unprecedented royal voyage to Canada and the United States in 1939.
During World War II the king worked to keep up British morale by visiting bombed areas, inspecting war plants, and touring theaters of war action. In 1947 the royal family made a state visit and tour of South Africa. A tour of Australia and New Zealand, scheduled for 1949, was postponed indefinitely because of the king's illness at the end of 1948. Like his father, George was held in deep affection by his people. He was succeeded by Elizabeth II. (CUDA)
1800's Canadian Victoria Coin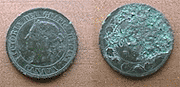 My wife went out one day to recheck one of our old spots. She didn't even realize what this was till she got home. It's an old Canadian coin dating from the 1800's. (XLT/beach & jewelry mode)
History: Alexandrina Victoria 1819-1901, queen of Great Britain and Ireland (1837-1901) and empress of India (1876-1901). She was the daughter of Edward, duke of Kent (fourth son of George III), and Princess Mary Louise Victoria of Saxe-Coburg-Saalfeld. Victoria's father died before she was a year old.
Upon the death (1830) of George IV, she was recognized as heir to the British throne, and in 1837, at the age of 18, she succeeded her uncle, William IV, to the throne. In 1840, Victoria married her first cousin, Prince Albert of Saxe-Coburg-Gotha. Albert, with whom she was very much in love, became the dominant influence in her life. Her first child, Victoria, later empress of Germany, was born in 1840, and the prince of Wales, later Edward VII, in 1841. Victoria had nine children.
Their marriages and those of her grandchildren allied the British royal house with those of Russia, Germany, Greece, Denmark, Romania, and several of the German states. In 1861, Albert (who had been named prince consort in 1857) died. Victoria's grief was so great that she did not appear in public for three years and did not open Parliament until 1866, her prolonged seclusion damaged her popularity. Yet in her old age, Victoria was became enormously popular. Jubilees were held in 1887 and 1897 to celebrate the 50th and 60th years of the longest English reign. The queen was not highly intelligent, but her conscientiousness and strict morals helped to restore the prestige of the crown and to establish it as a symbol of public service and imperial unity.
British 5 Pence
We went back to a park to recheck the beach one night, (not thinking we would find anything because we have detected it so much) and came across this British coin. The beach is on a river, so it's not affected by tides, but when we have a good storm the sand gets washes and cuts. The state is in the process of remodeling the park, but even if they dump more sand, it will still get washed away. (XLT/Relic mode)

History: ELIZABETH II was born in 1926, She is queen of Great Britain and Northern Ireland, and elder daughter and successor of George VI. At age 18 she was made a State Counselor, a confidante of the king.
During World War II she trained as a junior subaltern (second lieutenant) in the women's services. On Nov. 20, 1947, she married Philip Mountbatten, duke of Edinburgh. They were in Kenya (en route for a tour of Australia and New Zealand) when the king died (Feb. 6, 1952) and Elizabeth succeeded to the throne. Her coronation, on June 2, 1953, was the first to be televised.
Canadian George nickel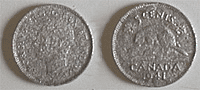 Now we have a George nickel to add to the collection. We've never seen one of these before. On the obverse it has a beaver and says, 1941. This one is certainly not in good shape.
History: Canada is an independent constitutional monarchy and a member of the Commonwealth of Nations. The monarch of Great Britain and Northern Ireland is also the monarch of Canada and is represented in the country by the office of governor-general. The basic constitutional document is the Canada Act of 1982, which replaced the British North America Act of 1867 and gave Canada the right to amend its own constitution. The Canada Act, passed by Great Britain, made possible the Constitution Act, 1982, which was passed in Canada. The document includes a Charter of Rights and Freedoms, which guarantees the rights of women and native peoples and protects other civil liberties. (CUDA) Canadian 5 cent pieces from 1944 to 1945 and 1951 to1954 were made of nickel-plated steel with a surface plating of chromium. Later 5 cent pieces were made of nickel and chromium. The dimes also contain nickel.
1946 Canadian George VI
I guess it's time to put George on the page. We found one last summer at a campground in Canada. We went there on a goldpanning trip. But now we've found another one, so let's put him on the page. A Canadian told us these are not in circulation anymore. (XLT/beach & jewelry mode)

History: Prior to the arrival of Europeans in Canada, the area was inhabited by various peoples who came from Asia via the Bering Strait more than 10,000 years ago.
The Vikings landed in Canada c.A.D. 1000. Their arrival is described in Icelandic sagas and confirmed by archaeological discoveries in Newfoundland. John Cabot, sailing under English auspices, touched the east coast in 1497. In 1534, the Frenchman Jacques Cartier planted a cross on the Gaspé Peninsula. These and many other voyages to the Canadian coast were in search of a northwest passage to Asia. Subsequently, French-English rivalry dominated Canadian history until 1763.