Gold Class Ring
Finally our first Class ring! 1964! This is the best ring out of all that we've found, a very impressive ring. I actually remember the day before, we were detecting at the exact same spot where we found it, I had a pulltab reading of +34, and was too lazy for digging another pulltab.
There wasn't really that many signals at this site, but most of them were good.(We found some silver dimes, and Indian head pennies.) And after finding a Walking Liberty, we didn't mind digging another pulltab. This place is kind of where people take their dogs for a walk and there's lots of joggers too.(XLT/ Relic mode)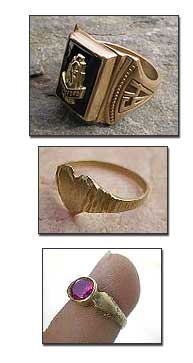 Gold Heart Ring
A friend of ours suggested we check out an old closed amusement park on Pleasure Beach. He told us people had been finding rings there. The catch was, we had to walk 5 miles to get there because the bridge had burned down in 1996.
Once we got there, we weren't finding much of anything. It was so trashed with bottlecaps and pulltabs. We were lucky we found a token. We were getting disappointed, so we decided to check out the beach. I gave up and sat down to enjoy the sunshine, so Carol took the detector and 15 minutes later she comes and shows me this ring! It's a small 14k ring and looks like it was hand carved. Also the finish on it is not polished, it's like a satin finish. (XLT/ Relic mode)
Gold Ruby Ring
After we bought our first waterproof detector (The Barracuda) we went to test it out on the beach, in our lucky park. I was scanning the sand by the waterline because once you go in the water it's all clay. I was trying to dig all the little whispers, but alot of times it would be something so tiny, like a staple, I would be standing there for an hour trying to find it. After about three hours of finding staples and hairpins, I decided that if it falls through the scoop - you're wasting your time!(especially in the water). So I went for the louder beeps, and five min. later I found this small ring! Now that I have a good Scoop I'm ready to hit the clay in the water! (CUDA)
Gold Sapphire Ring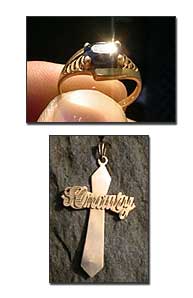 We were hunting with our club vice-president Mike Robinson(over 19 years of water hunting he found 2000+ gold rings) and I was trying to get some tips on Water Hunting. He said that the beach we were detecting was not a good place to learn how to water hunt, since it was full of iron and junk. He started telling me about another old beach that he and his friends went to, where they found SO much gold that you wouldn't believe it! Rings, chains, bracelets, etc... He said, We cleaned it so good that you can go there now and walk for hours and you won't get a single BEEP! It would be a better place to practice.
Sounded like a great challenge to me! I thought, They must of left one ring for me. I just had a feeling that I was going to find a gold ring there. We only had a couple hours hunting before our club meeting the next weekend, so we went and this is what we found. The tide was even up! This one was about my 5th beep! Our first sapphire! Mike sure was surprised when we showed him this at the meeting.(CUDA)

14k Gold Cross
We found this gold cross at the same beach as the ring above. It was on Jan 1, 2000. When we got there we saw that someone else had been there digging recently, cause we could see dug holes in the water. We thought, Oh boy, are we going to find anything today? Well here it is, our first gold find of the century! We also found a Buffalo nickel. Which goes to show, nobody finds it all. The cross was only one inch down too, the sound was real loud and I thought it was going to be a pulltab or bottlecap or something like that. (CUDA)
First Gold Rings for 2000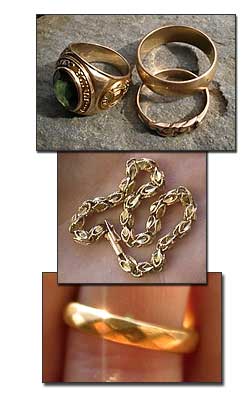 We found these nice rings, March 5th. The one on the left is a 1957 class ring, a man's heavy 14k wedding band, and a ladies 10k ring. We went to the beach and the wind was whipping and blowing sand everywhere. I didn't exactly want to get in the water, but I did anyway. It was hard digging, but there was a small cut, that the waves were washing into, and I kept getting some good signals, but it was hard trying to get them out. I actually found five rings that day. The other ones were, an old kid's ring and an old silver ring that is all bent up. These are a pretty good start for this year's collection. So glad it's Spring! (CUDA)
Second Gold Bracelet
The weather was nasty this weekend, heavy rain, windy and cold, but what can stop us from going? Nothing, because it's our day off! When we got to the beach we were the only ones there, and it was raining hard. We forced ourselves to get out of our warm van, put on our wet gear and head out. Carol said she wanted to try a spot near a swimming pool that she couldn't detect the last time we were there, because of too many people around, and I headed for the ocean. It didn't seem too windy but the waves were strong, and I could see a long cut they created in the water so I jumped in.

I could just feel all the gold laying under my feet! After fighting the waves for half an hour, I had to get out because I was getting seasick! I couldn't find anything because the next wave would fill up the hole I just dug. So I thought maybe I would be better off on the wet sand. A few quarters popped up but no gold. However, I did find 2 silver rings, and then went to see how Carol was doing (and since I was getting hungry) and she showed me this nice gold bracelet she found by a wall near the playground. One of the links had broken, that's why it was lost. It has a very unusual locking clasp on it. (XLT)
Gold Wedding Band
At our March club meeting, we were invited to go to a hunt at Revere Beach, near Boston. We drove up a day early to do some extra detecting since we found out this was the oldest public beach in the country, and they had a big amusement park there in the early 1900's. We thought for sure we would find lots of goodies. When we arrived we saw that there was nothing left of the old park at all, and was kind of disappointed. We were glad we did our research though, so we knew where buildings used to be.
The beach is a huge three miles long, so we didn't know where to start. It was kind of overwhelming. So we decded to start at the center of the beach. I headed toward the water with the CUDA since it was low tide. But after about 45 minutes, all I had found was a penny, and even that was in the wet sand. Carol started detecting the dry sand by a shelter and found several old coins including a 1935 Mercury, 1925 Buffalo,
V nickel
and some wheaties. Then I came over to detect with her and popped up a
1877 Sitting Liberty dime
in great condition.
The next tide was suppose to be at 9 PM. I suggested that we check the southern part of the beach. As soon as I hit the water there, my second signal was this nice 14k wedding band. On the inside it has a date of 1947. Our day ended with the tide coming in, and the wind getting too wild. It rained hard that night. Believe it or not, we found a ROLEX the second day. (CUDA)
Gold Jewelry Page - 3