Vintage US Navy Ring
A nice beginning for Memorial weekend! It's only Saturday and we already have three rings.
I did the morning tide and when I was teaching Carol how to water hunt, the batteries died, oops... and we had no choice but to come back home.
This gold US Navy ring is the BIGGEST one we have found, and the light blue stone is perfect. Read more on this US Navy Ring
None of these were really that deep. Maybe the wind did something to the bottom. Since we're here,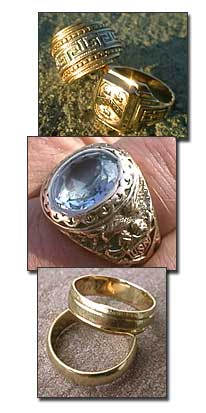 I decided to throw these couple of pictures in for you to see. We still have Sun & Monday off, hopefully we'll be able to add more to our collection when we come back.

Sunday we didn't find any gold at all. But actually found another Navy ring that was gold plated, and looks just like the one to the right.
Monday was real windy and wavy, but my persistence paid off with two more wedding bands. So, we did not break our record of 3 rings in one day.

Next weekend the tides are going to be REAL LOW, and we can't wait to see what we're going to find cause we'll both be in the water.
(CUDA)
Gold Wax Seal Ring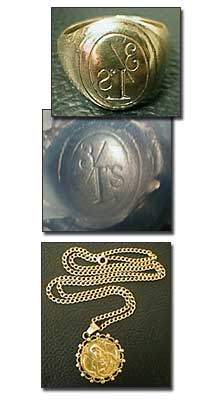 Well, let's see... With the super low tides this weekend, we got kind of confused as to which beach we should go to. The wind was out of the NW so most of them would have been good. But we like finding the old stuff, so we went back to our favorite beach.
Saturday afternoon both of us got into the water. It's a good thing we have 2 water detectors now cause the barracuda pooped out on us. So Carol took the XLT and searched the rocks that were exposed at low tide.She found a lot of miscellaneous stuff and old coins. We checked another beach early in the morning on Sunday, but the sand was too deep. So we decided to stay where we were instead of running around all over the place. I tried working on a different part of the beach. I got a signal that turned out to be a red brick. (A pulse can detect those.) I removed it, but there was still something under it.
This nice ring was about a foot deep, under this brick! Notice how the lettering is backwards. We believe it was used to stamp a wax seal on documents or letters. The picture on the left shows an impression in wax.
Gold Chain and Religious Medal
Like I said earlier, I've always wanted to find a gold chain. This is not the big old heavy thing like I envisioned, but I'm not complaining. Sure has an old religious medal pendant on it. Looks like it was handmade.
I was finding some silver coins in this one spot, and when I was pulling my scoop, the chain was hanging out. Panicly, I grabbed it! The clasp on the end was missing. This ring was under a penny. I could have knocked the stone out when I was digging it. When I looked at it, it said 10k, so I knew it wasn't a diamond and didn't bother looking for the stone. It looks pretty old too. Strange that all the rings we've found on this beach so far seem newer, but now I'm starting to find the old stuff. So after all, Garrett has proved to find gold too. I still like using the barracuda though, or maybe I'm just used to it. (Garrett)
Vintage Gold Class Ring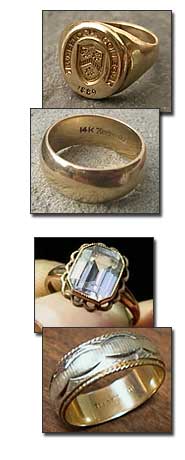 I found this smallest class ring on Saturday. It's even too small for my wife's pinky finger. When I looked at it, I saw the date, 1889 and thought, Wow, this is really old! But on the inside it says 65. You wonder how I found it? I was just pulling old coins and things like that, and here it comes. There's really no way of telling what you're going to dig. Sometimes you can just feel inside it's a ring. Carol practiced all day Saturday with me in the water, but by Sunday the barracuda's batteries were dead. So I had to use the Garrett on Sunday. Found more silver coins but no gold.

One funny thing that happened was... I actually stepped on a fish! Yes, a fish! I couldn't believe it, and it sure was a STRANGE feeling. It wobbled under my foot and I saw it take off. Sometimes when I pull up my scoop there's a crab in it. You just never know what you're going to dig. A couple of times I caught a minnow too. I like catching gold best! (CUDA)
14k Gold Keepsake Band
All day Saturday, Carol and I were in the water. The bottom has changed so much we were wondering if we would find anything at all. We pulled alot of junk. I went to the spot I found last week and started pulling coins again. This Gold Keepsake Band was in the same area where I found the above ring, under the brick. This is the biggest, heaviest plain wedding band we have found. It was DEEP too.
Pretty Nice Gold Rings!
This little clear stone ring is the first of two gold rings I found first thing Saturday morning. It was in the soft sand and not very deep. I'm so glad the stone wasn't missing! I almost fainted when I saw it, I thought it was a big old diamond. But when I looked on the inside it read, KSK-10k.
This second ring is Carol's first gold water find. On the inside is says, 14k Blue Fire with a diamond symbol between the two words. She was pretty amazed finding her first gold ring in the water. It was about a foot and a half down, and laying with another target. (CUDA)
July 4th Gold Rings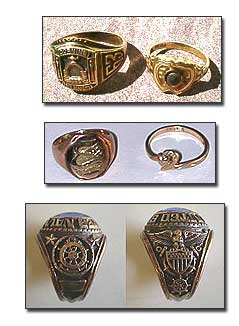 We had a 5 day hunt this weekend, and seems like we should have been able to find more gold, but we're not complaining. The first 2 my wife found using the Garrett. The class ring was at the edge of the low tide swash and not very deep. It was all tarnished and she thought it was a copper junk ring. It's a 10k 1963 class ring, honey, nice find! The other one was in the water and it was right next to a real loud signal which turned out to be a key. It was not very deep either, but it's a little girl's ring, also 10k.
Gold Rings
This is the oldest class ring we have found. We went to check out Goddard Memorial State Park beach and didn't think we would find anything, the sand is so deep. In fact, I only had five signals the 3 hrs we were in the water. The sand was real soft in places and your feet would sink like quicksand. Then I hit upon an area where the sand was packed hard. Found 2 coins and this ring. What a stroke of luck.
The other ring was found at a fresh water beach our two detecting buddies took us to. It was near the shore. It has a fox on it. The fresh water beaches are kind of gunky to detect in now. (Fisher)

US Navy Ring
The first hit was a silver ring with cz diamonds in it. Got some clad coinage, and by now it was already dark, I got a whisper and decided, what the heck. I pulled out something that looked like a ring, I couldn't see in the dark. But here it is, another Navy ring, and this one is even heavier than the one at the top of this page. (CUDA/Garrett)