Silver Indian Bracelet
This bracelet was hardly tarnished when I found it. A very loud signal, more than two feet deep.
We dug a couple holes that were at least that deep, and the deeper you dig, the louder the signal would get and we would think it was a big piece of scrap metal or something and we would normally give up trying.
I probably missed a great deal of good finds by giving up too soon.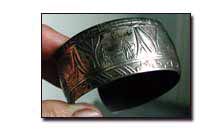 But this was not... I don't know why I didn't give up digging it out, I just wanted to see what it was I guess. The design is nice. It has Indians, trees, and teepees. Nothing is on the inside. I wish it was solid silver, but it seems to be made of steel with a silverplate on top.
Lesson learned... keep digging those super deep signals Vlad, you just never know whats hiding in there.
Antique Bracelet

This bracelet looks pretty antique. When I pulled it out of the water it was still inlaid with blue enamel. Later, when I took it out of my pouch all the enamel was in my pouch. I believe I saw pictures of Mary and Jesus painted on the round things. (Cuda)
Two More Old Bracelets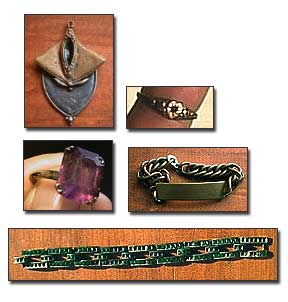 When my wife got in the water with me and Mike Saturday morning, this pendant was her first target. The bottom half is silver and the oblong stone is missing. Still, it's an interesting design. The upper part seems to be copper.
As she was digging her second target, all of a sudden the handle on her scoop broke off. She motioned for me to come over and help. The basket of the scoop was still stuck down in the hole in the water and I had to use my scoop to pry it out. After I got her scoop out, I continued to dig the target she was trying to get. It turned out to be this nice old ID bracelet to the left. Not gold, but still nice, and the first ID bracelet we've ever found.

The funny thing is, I knew the handle to her water scoop wasn't going to last much longer, and I even offered to change it before we left home. In which she replied, Oh no honey, it will be okay, I don't use that much pressure! (yeah, right... I know how those rocks are!)
This ring with a large purple stone is the second ring I found Saturday night. It's interesting only because of what it says inside. 1/30-14k gold RGP & Sterl Pat Pending. It was pretty tarnished too. Just like this other pinky ring found Sunday night. I thought it was silver at first, till I got it home and cleaned it up. On the inside it has an arrow with a capital B in it and then says, 1/20 12k G.F.Kiddie then 2 other letters that look like a written s e that were added.
This antique bracelet has small dark green stones all around it, and the clasp was not broken. I can't tell what kind of metal it's made out of, it's too old and fragile to clean. Sunday afternoon my wife insisted on getting into the water while it was still high tide. And I'm glad I joined her because I found the silver rings and this bracelet within a half hour. (Cuda/Garrett)