AA Junior Stewardess Ring
This kid's ring is an unusual find too. It says, AA JUNIOR STEWARDESS on it. Obviously from American Airlines, it's made of copper and adjustable in the back. We haven't tried cleaning it, it's in pretty good shape. It's got to be a collectable by now.
History:
American Airlines Junior Stewardess Wings From The 1950's. AA gave these rings to young ladies who flew with them. They were replaced in the '50's with the metal Junior Stewardess Wings.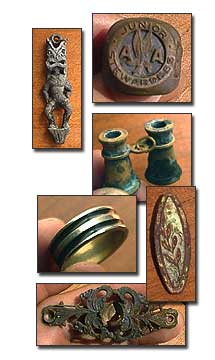 My wife just loves this find. A cute little vintage binoculars charm. She also gets the award for
Most Interesting Find
this weekend, which is this tiki pendant on the left. Would somebody please tell us what it is? There are still little black stones in the eyes. It's made of pewter with traces of black paint on it, and it's about two inches long.
We thought for sure this ring was gold when we pulled it out of the water. After not finding any gold for 3 days, we were hungry for it! Carol was helping me in the water with the screen on Monday and keeping me company, since we ran out of juice for the Barracudas, we were using the Garrett. It wasn't very deep either. There's no markings on it.
This small brooch with an inlaid wheat picture, Carol found in the surf, the pin is missing on the back. We thought at first it was a barrette, but the closure on the back would have been different. This copper antique brooch to the left was Carol's 1st find on Sunday morning. It's very antique and fragile, with an intricate design. It seems it was goldplated. We can still see traces of gold. It had 3 stones which are all missing, yet the pin is still on the back. (Garrett)
Old Iron Cross Ring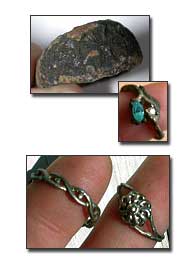 This ring is really old too. And I sure would like to hear the story on it, because it has an iron cross emblem and on one side you can barely make out the year 1914. I suspect there was a year on the other side, but can't make it out. Too bad it wasn't made of a better metal.
More info from one of our readers:
This ring looks alot like one that I found in my mother's things shortly after she passed away. My ring is a ring that the DHG or German Historical Group gave out during1914 for the relief of Germany. It was given to people who donated their gold or silver to the country.
Theres more information on it some where.

"Dem Alten Vaterland Die Treue zu beweisen Gab Ich in schwerer Zeit Ihm Gold fur dieses Eisen."

Translated into English, this phrase means "For the old fatherland Loyalty to Show Gave I in difficult time To him gold for this iron."
The inner portion of the ring is inscribed 1914 DHG N.Y. (Pat. Nov. 24, 1914). The ring is aproximatly mens size 10.5, it is 3/8" wide on the front and 3/16" wide in back.
Thats the best I can do for now. If I find anything with more information on it or if YOU have anything with more info Ill send to your or could us send to me?
Thanks. S. Wheeler
---------------------------------------------------------------------------
Hi, I own one of these iron rings shown on your web page. I got mine, in my high school years, from a pawn shop in Milwaukee. My father, born there, in 1907, recalled the 1914 fair, sponsored by the DHG (Deutsche Hilfe Gelsellschaft - German Aid Society .... not "History"). I think he had gotten a little cardboard Picklehaube, the spiked helmet of the German Imperial troops. Such fairs were held in many cities. I am sure that the list would include New York, St. Louis, Cincinnati, among others. People would turn in gold rings and watches, etc., to aid the German war effort. Somone split (not terribly neat job) the band of my ring to enlarge its size.
Cheers,
Jon von Briesen
Forked River NJ
This other ring here is a gold plated ring Carol found. She wanted to find something really nice on our Anniversary, Sorry this wasn't it, honey. Glad the stones were still in it though. We had visited another beach in the area Sunday morning while waiting for the club to show up at Crescent. This and some clad, and a huge key are the only things we found. Guess we should have went somewhere else.

These other two rings are more teen rings Carol located when she went out one day on her own. She said that the face of the beach had totally changed from the last time she was there. Where was I at? Working of course. One was found in the high tide line, and one in the weeds by some woods. She was searching an area that someone had just cut the brush out of. (Cuda/XLT)
Old Signet Ring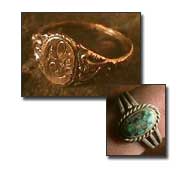 This is the only ring we have found at Crescent Beach, of all the times we have been there. There is a lot of iron trash in the water. I think it was my second time using the Barracuda. I tried to pull everything that beeped, and it was a shocker finding this ring. It had a bunch of sand stuck to it. We hoped it was a 10k, but after cleaning it we figure it was goldplated yet very old, just like everything else on that beach.

This is the first ring Carol has found in the water. She was thrilled, even though it is not gold or silver. She said she was digging pieces of wire in this one area. There was also a nail in the scoop with it. She says water hunting is really different than land hunting, it's like everything is done in slow motion. (Cuda)
Goldplated Rings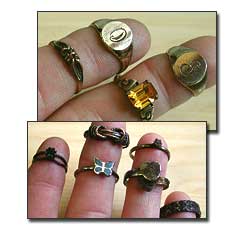 This past weekend, we really got spoiled. Found so much nice stuff. These rings even though plated are still special too. Mostly kids rings, and a couple birthstone rings. There's four more on the silver 5 page.
We found all of these at a overhunted fresh water beach. We went back to check it, because we felt there was stuff there, yet deep.
We call it overhunted because there wasn't any recent losses to be found or any clad. In fact, while we were there Friday morning, a detectorist showed up and spent a couple hours gridding the beach. Then at noon, another detectorist showed up and saw that the beach was grid, got upset and left.
We were glad that we were in the water. And even though the rings are old, we like finding them better than finding the new stuff. (Cudas)
Belt Ring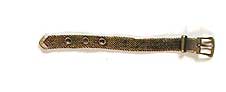 The small belt to the right, turns out to be a ring. It is the most interesting of all six miscellaneous rings we found at Scarborough. My wife was digging a target and when she looked down she saw it sticking out of the black mud. But when she scanned it, it barely made a signal.
She picked it up anyway and was amazed that it was metal. It fastens with a tiny buckle around your finger. It was probably goldplated at one time. (Cuda)