Tom Mix ring
This ring is a Tom Mix Straight Shooter ring which was a Ralston Radio Show Premium. They made several types of Tom Mix rings dating between 1936 and 1949. The Ralston company made a popular cereal. The ring is not the
Lookaround
ring as advertised, but it is made by the same company.
On one side of the ring is a steer head, and on the other side a pistol. On the inside there seems to be what's left of a copyright stamp and 43 along with the word FILAMENT. (Cuda)

History: Tom Mix was a cowboy movie star; a big one. He appeared in over 300 Westerns. His famous horse was named Tony. During 1913 and 1914, Tom Mix(a former Texas Ranger) made at least 30 one and two reel silent adventures at the Selig Polyscope Ranch near Prescott, Arizona.
In 1922, at the height of his box office fame and making $17,500 a week, Tom Mix returned to his beloved Arizona with the William Fox Film Corporation to make the five reel silent Western adventure Sky High at the Grand Canyon.
Mix returned on numerous occasions in the 1920's to film near Prescott, and other settings around Arizona. But when the talkies arrived, Tom's career fell as flat as a chuckwagon pancake. He ended up working in rodeos and circuses.
Tom was killed in a freak automobile accident in Florence, Arizona in 1940. He was driving his single-seated roadster in the middle of the desert, and his suitcase flew off the rear shelf and hit his head.
1928 Al Smith Ring
We didn't find any gold this weekend, but these two rings are as good as gold. The first is a Presidential campaign ring. It's kind of bent up but we don't care, it's a piece of history! It's interesting that we just found a Hoover pin a couple of weeks ago, but on a different beach.
History: Alfred E. Smith(1873-1944) was born on the East Side of New York. Before being elected to 4 terms as Governor of New York, Al Smith was, among other things, Sheriff of New York County during World War I. He is, of course, best-remembered as the Democratic nominee for President of the United States in 1928. He was the first Roman Catholic to be nominated for the office by a major party. He was defeated by Herbert Hoover in a bitter campaign marked by anti-Catholic bigotry. Alfred Smith died Oct. 9, 1944.
Three Lapel Pins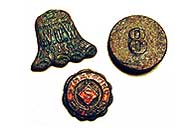 When we went back to the old beach in Stratford, we were searching close to the bank. I didn't have a beach sand scoop because Carol was using it. I was also using the Whites Spectrum XLT. Carol said if she would have detected these with the Pro XL 6000, then she I would have gave up trying to find them because they are so tiny, they would have fell right through the holes in the beach scoop.
The lapel pin at the bottom says Stratford Highschool. The bell shaped pin says, W.O.W. The other one reminds me of an eight ball. This picture is twice their actual size. I say, Wow! (XLT/PRO XL)
Charlie McCarthy Lapel Pin
We found this leprechaun lapel pin the day after St. Patrick's Day. Which we thought was pretty cool. The mouth of it seems to be jointed by itself, yet it doesn't move. It seems to be made of copper. There is a not a pin on the back, that you can attach it to your lapel though. The back says, MR D UNDER EXCLUSIVE LICENSE FROM EDGAR BERGEN AND CHARLIE MCCARTHY INC.
Well, this little piece of junk jewelry turns out not to be a leprechaun at all. See, you never know what you're going to find. Charlie McCarthy and Edgar Bergen had a popular old time radio show. Edgar was a ventriloquist and Charlie was the doll. So the question is, Who is Mr D, and is this little trinket valuable?