Pewter Cane Handle
The first time I got into the water at Crescent Beach with my new Barracuda, I had to pull everything to learn the signals. Most of it was big iron or little nails. When I dug this I didn't know what it was, even though it wasn't corroded or anything.
It had pieces of wood still stuck in the end, and I thought maybe it was a fancy golf club or something, lol. Anyway it's a cane handle, made of pewter, very antique looking.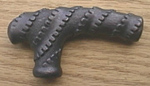 For some reason pewter is not corroded in salt water, all you need to do is clean it with soapy water. This is the only cane handle we found so far and it sure is a nice one. It's actually rather small, perhaps a child was using it?
(Barracuda pulse)