Old Good Luck Game Horseshoe

We know horseshoes are suppose to be good luck, but how many times do you find one that says, GOOD LUCK on it? When Carol was digging in some soft sand at low tide, she was pulling some iron globs. This was about a foot deep.

When she pulled it out, it was covered in corrosion. Later in the day she started tapping it on a rock and the corrosion fell right off.
It also says, ST PIERRE, WORCHESTER MA.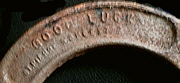 On the other side it says, FORGED STEEL and when she was rinsing it off it was like it was slowly dissolving, her hands were a silver color.
(Garrett Sea Hunter Mach 2)