Old Lead Soldiers And Toy Cars
Here's the three antique toys we found the July 4th weekend. The little guy looks like a jocky. The center piece was a glob of corrosion when we found it, but for some reason my wife thought it was something and started cleaning it. It's a soldier firing a machine gun.
The other soldier has one arm missing that probably moved up and down in a salute. It's stamped on the bottom, Made in England. The long thing at the bottom is a brass bottle opener. The handle piece was probably wooden and is missing.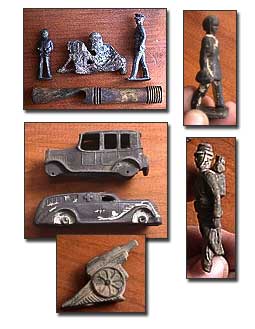 We are getting so many toys, we may have to make a special toy page. The antique car at the top was the first find. And Carol found the second car which looks like a medical vehicle about five minutes before we got out of the water Sunday evening. She said the target was real loud. So loud she thought it was another iron glob, but dug it anyway just to get it out of the water.
She laughed when she saw what it was because on Saturday she found a lead toy that looks like a medical nurse.

After Carol broke her scoop Saturday morning, she had no choice but to just scan the rocks that were exposed at low tide. Here's another soldier she found that has a red coat. Maybe a Revolutionary War soldier. Then she found this item to the left. She had dumped what was in her scoop in the wet sand and rescanned it to locate the target. It was covered in seaweed. When she picked it up, at first she thought it was a decorative piece then realized it was a cannon and couldn't wait to show me. (Cuda/Garrett)
Old Lead Soldiers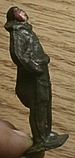 Here's another lead toy soldier found in the water. It's a pilot. It still has some red paint on it. There's nothing stamped on the bottom of this one.

Toy Lead Soldiers



This first soldier here Carol calls her cutie find. She cleaned the rocks so well on Saturday, she didn't find much on Sunday. This soldier is lead and it was near the water's edge at low tide about six inches under the rocks.
While we were eating breakfast at a local restaurant, we asked some senior citizens about the building that used to be there at the beach. And now we know why we're finding so much old stuff. It really pays to strike up conversations with locals.



Here's the lead truck Carol found. She gets so excited when she finds stuff like this! The other one that I found on Saturday is smaller and made of pewter. It looks like a pickup truck.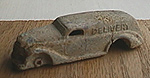 We sometimes find the old lead and pewter toys easily. This delivery truck to the right is our favorite lead car so far.