Old Collectable Spoons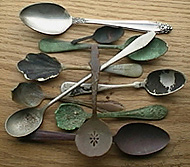 Here is part of our spoon collection. Most of the ones we find are silver or silverplated. It's fun finding them, because you just know kids took them to the beach to dig in the beach sand.
Our most recent spoon find is the Mr. Peanut spoon in the middle, but another of our favorites is a Mickey Mouse spoon.
In the bottom picture, these are more decorative pieces that are larger pieces. The big four inch lid in the picture is bent in half, and has an intricate design on it. It looks like it may have been the lid off an antique lady's compact.
Here's some more stuff. The item in the center, is made of brass and we think it hung around the base of a lamp.
The character looks like Neptune I guess, or the pictures you see of the North wind.