Old Silver Thimbles
Metal detecting for buried relics is easy to do, but most of you have probably noticed we spend most of our metal detecting time at the beaches.
That's why you don't see that many relic pages on our website.
However the beaches are very old here in New England, and we do find relics occasionally. If the beaches are not productive, we head for the woods and rivers.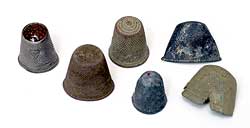 Here's our collection of old thimbles. They were found while we were relic hunting in various locations on the beach, land, and water. The oldest thimbles came from the riverbank near our house. Two of the thimbles are silver, one is an old Monopoly piece, and one silver thimble has a glass top with a shield on it's side. They're all unique and interesting finds.
Lead Grapeshot and Musketballs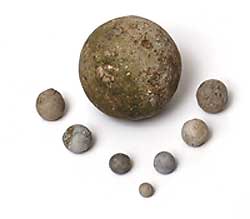 Lead musketballs are probably the most common relic found by many Civil War relic hunters. Though we didn't have much Civil War activity in CT, the shoreline is famous for it's boatyards and Naval activity back then. Usually when we find musketballs there are other relics and old coins waiting to be found in the area.
Many of them we located at the river along with colonial buttons, coins and other things. We went to check a new spot down the river from our place, and we found several more buttons and a large cent. But when Carol found this she yelled, I found a cannonball!
This cannonball turns out to be what they call Grapeshot. It's not quite as big as a cannonball and it's not made of iron. We were told they would load several of these in a cannon and when they fired, they scattered like a shotgun. Sometimes they would chain them together for sea battles which would be effective for taking down masts.
This one seems to be made of lead, but we read that some were made of lead covered porcelain. We're not going to crack it to find out. The thing is real heavy weighing exactly 1 lb 2 oz with a diameter of 2 inches. We've also seen flintlock rifles that have a huge barrel, so maybe it was fired out of one of those.
Bridle Rosette?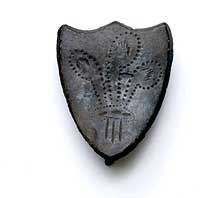 We went to a nearby state forest and found an old buried bottle dump. One of the bottles had a date of 1858, but it was broken. There was a lot of cork top bottles and broken pottery, and this was the only good signal that came out of there.
We have looked on the Internet for another one of these, and couldn't find one. But when we went to the B.O.N.E. Show in New Hampshire, we saw two other ones on display by other relic hunters. They told us it was a bridle rosette which clips to a harness on the sides. There are two thick stubs on the back where it attached. It's made of brass or bronze. It appears that the design was handmade with a punch. We were told these were popular in the 1800's. If you know of any other information please e-mail us.
Antique Cast Iron Toy Train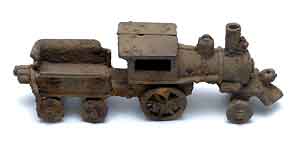 Speaking of the BONE Show in New Hampshire, this old cast iron toy train was found when they took us to an old muster field to metal detect. Everyone was metal detecting in the field, and Carol decided to check out a strip of land between two old stone walls, that appeared to may have been an old road at one time. It was overgrown with weeds and bushes. Unlike the muster fields, she began getting a lot of signals which is always a good sign.
It was all rusty and covered with dirt, and she carefully cleaned the train with a toothbrush. After doing some research we believe it is an 1863 model cast iron toy train. She didn't find any other parts except a wheel off some other cast iron toy and a light green blobtop bottle with the bottle stopper still inside. What great souvenirs we took home with us. If you know of more information on this train, like when they made these, please let us know. Thanks.
Read some tips for finding old coins on our Relic Hunting Tips page.