Rolex Sterling Silver Spoon
I thought this spoon was old and rare when I found it, but come to find out, there are several different varieties on Ebay right now. None are selling too well either.
It's about 4 1/4 long. The lettering at the top of the handle reads Rolex Bucherer, Watches. I did find a fake Rolex to go with it!
(Fisher Impulse)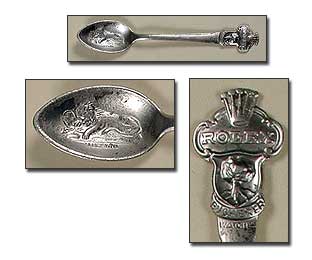 History: The bowl shows the Lion Monument of Lucerne, which was originally carved out of natural rock in 1820 and is dedicated to the Swiss soldiers who died in the French Revolution. B 100 12 is stamped on the back of the handle.
Silver Red Coral Ring
This ring is the nicest of the four silver rings we found Labor Day Weekend. It's the only ring we found at Narragansett Beach in the surf at low tide. Big and heavy, a man's size 12, stamped .925, and a beautiful design inlaid with red coral.
Avon Silver Spoon Ring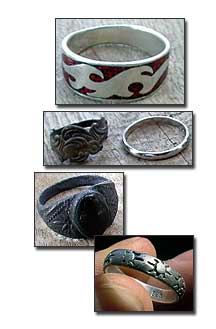 The adjustable spoon ring has a nice design, and it is stamped AVON sterling inside. Maybe you would like to know how to make spoon ring? We believe that nowadays spoon rings are made from molds and not actual silver spoons. Since Sterling is such a soft metal, they mix it with an alloy for durability. We have found several very antique and decorative ends of silver spoons that would make beautiful rings. When we run across the procedure we'll let you know right here, so bookmark this page.
Read some information we gathered about silver and how to clean it.
The woman's large silver wedding band was found by my wife while detecting an 1860's farmhouse nearby. The only other thing she found was a 1941 Mercury, which would have fit easily inside. (Cuda)
Black Onyx Silver Ring
Next is the black onyx silver antique ring Carol found. She said it was laying with 2 wheaties. I wish we would have taken a pic of it before we peeled the thick layer of black sand off. It has a black onyx stone.
Silver Sun Ring
We showed up at our club hunt late for the July meeting at Burlingame State Park. Everyone had already detected all afternoon and was ready to go home. Somebody found a gold ring in the shallow water. So we put our headphones on and headed for the beach. Carol found 2 silver rings, this is one of them. The other one was a toe ring.