Casio Tide Watch
Casio Solar - Tide watch is the newest addition to my beach hunting gear. I was searching around the web, and ran across this watch by accident. It only took me about a minute to realize that this is something I could really use. I was actually searching for solar products when I found it.
I ordered this watch online, and it just came yesterday. I am so excited, I decided to make a page for it, and share my thoughts on this fantastic watch.
Update:
Well, I have been getting many emails asking me where people could find one of these, what the serial number is etc. When I wrote this page it was year 2006, so it seems hard to find one of these now a days. But to answer your questions, I have bought it on ebay and the serial number on the back is 2531 pas-201 My guess is that Casio have replaced it with another model :/
Instant Tide Charts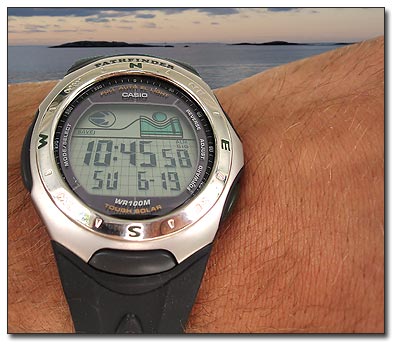 You gotta love the new technology! I certainly do, and I'm always looking for different gadgets and things. So, how is this watch going to serve a beach hunter? Simple! A tide chart on the wrist of your hand that is available to you 24/7. No more wasting time looking online or playing guessing games, the tide charts are right here when you need it! You simply calibrate the settings to the lowest tide in your area, and you're ready to go.
This watch also shows you a moon phase, so you can predict easily when the lowest tides will occur.
Solar Power
And thats not all folks! Another reason I bought this watch is... its solar! That's right, no more battery replacements! The beach sunshine will recharge it for you, so you never need to buy batteries ever again. Now, I like that! (I wish they would make a detector with solar panels!)
An indicator will show you how much charge you have, and if you need to expose your watch to the sun. It only takes a few minutes to fully recharge, which will last for days in the dark.
Water Proof
Of course, I would never recommend this watch if it was not waterproof. I don't know about you guys, but I always detect with my watch on. This watch is 330 foot (100 meters) waterproof, so no need to worry if it's going to leak on you. You can dive with it as well, if that's what you want to do.
Other Features
5 daily alarms, countdown timer, stopwatch, LCD backlight, Stainless steel case, and more.
Summary
I've bought several Casio watches in the past, and have never had any problems. Unlike my older G shock, this is a lot more comfortable on my wrist and much slimmer, which is good (no need to take it off when putting a wetsuit on.) And the best part, I only paid $32.00 for it.
I highly recommend to all beach hunters and fishermen alike. Enjoy!