Cracker Jack token
Didn't know Cracker Jacks even made tokens. We guess this is some sort of game piece, so it probably is not very old. They're still fun to find, like foreign coins. Found in the water about 6 inches deep. It's made of aluminum. Last year we found several Shell station presidential game pieces. Remember those?

History: Taylor, Zachary, 1784-1850, 12th President of the United States (1849-50), born in Orange co., Va. He was raised in Kentucky. Taylor joined the army in 1808, became a captain in 1810, and was promoted to major for his defense of Fort Harrison (1812) in the War of 1812.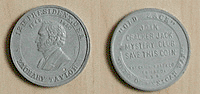 He became a colonel (1832) and served in the Black Hawk War and in the campaigns against the Seminole in Florida, winning the nickname of "Old Rough and Ready." Sent to the Southwest to command the army at the Texas border, Taylor began (1845) to prepare for hostilities with Mexico regarding the annexation of Texas, pushing into disputed territory S of the Nueces River.

In the Mexican War he defeated the Mexicans at Palo Alto and Resaca de la Palma, drove them across the Rio Grande, and took Matamoros. Later he forced the surrender of the Mexican stronghold at Monterrey.
In 1847 he won the decisive battle of Buena Vista in the face of great odds. A popular hero, Taylor was nominated for President on the Whig ticket, was elected, and assumed office in 1849. His nonpartisan tendencies were changed under the influence of Senator William H. Seward, and Taylor was soon a strong supporter of Whig policy.
As President, he supported the Wilmot Proviso, which excluded slavery from all the territory acquired as a result of the Mexican War. He favored rapid admission of both California and New Mexico to the Union and strict limitation of Texas boundary claims. His free-soil views put him in opposition to the measures that were to become the Compromise of 1850.
After charges of corruption were lodged against members of his cabinet, he promised a reorganization, but was stricken with cholera morbus and died on July 9, 1850. He was succeeded by Millard Fillmore.
(Cuda)
DIETZ token?

We're not sure whether or not this is a token. There is nothing on the other side. I was finding Mercury's and Indian head's when I found it. So it must be fairly old. I was using a smaller coil. It really made a difference getting between all the pieces of iron. (Pro XL)
Update: Hi: I saw your site and wanted to give you an identification of your Dieiz token. If you look at it the second i is a t and the token is the adjuster knob from a kerosene lantern. Cheers, Rob

ROYAL weight
This isn't a token, but we thought it interesting enough to include on this page. It was Carol's first find at Crescent Saturday. It's some kind of weight, and it says, BICYCLE PATTERN. What could it have possibly been used for?
(XLT/Coin mode)
Good Luck Tokens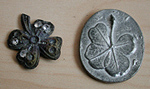 Check out these two four leaf clover tokens. I had walked down the beach to check some old foundations and came across the larger of these four leaf clover tokens on the way back. My wife laughed when I showed it to her, because I'm always telling her, It's only luck when you find gold.
The person who lost this must have kept it in his pocket for luck all the time with his change. The smaller piece is a four leaf clover lucky charm too and it originally had six small clear stones in it, only four were left. Now I have double luck? Alright! (Cuda)
Token Websites
Ryan Family Amusements
Roger Williams Mint
US Transit Tokens