Chuck E. Cheese tokens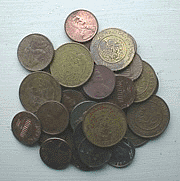 While we were waiting for low tide, my wife took the XLT and was checking around a boardwalk at the beach. She said there was a lot of gum wrappers and pulltabs.
When she got this signal she thought it was going to be an aluminum can because it read 1.5 and it was deeper than 1.5. She went ahead and dug it anyway thinking that it was unusual for buried cans to be this close to the boardwalk. Her next scoop was rattling with all these tokens and change. Another scoop produced more! A cache of Chuck E Cheese tokens!
Only one is not a Chuck E. Cheese, it is from the Margueritaville Sports Bar & Grill, wherever that is. The oldest of the Chuck E. Cheese tokens is 1986, and it has a different design than the other ones.
(XLT/relic mode)
Token Websites
Ryan Family Amusements

Roger Williams Mint
US Transit Tokens