Old Buttons and Decorative things
We've found quite a few buttons in our hunts, and things we call snippers and snappers This is a small part of our button collection.
Recently we've added to our collection a lot of old colonial buttons.
If you would like to find old colonial buttons, the best place to metal detect is on a riverbank, because that's where people use to wash their clothes in old colonial times.
The picture below is some of the decorative things we have found metal detecting.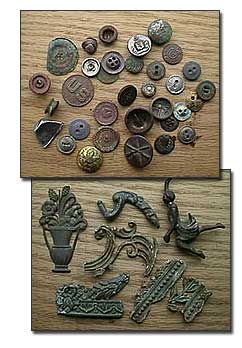 Finding things with designs on them is more fun than finding lead blobs! They are off of something, most are fragile, all are made of copper, except for the dancing girl. They all probably wound up on the beach because of the Hurricane of 1938.
All the stuff we have found on this beach is real old. There are no pulltabs, no bottlecaps, no foil, just iron and zillions of nails!
Frog, Turtle, Lizard Decoration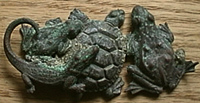 This copper item with the critters is off of something too. The picture is the actual size.
When the beach sandsweeper went by that morning, it must have gotten kicked up, because when my wife found it detecting, it was laying practically on top of the sand.
It has turtles, two frogs, a lizard on it. (Spectrum XLT/beach & jewelry mode/Garrett Seahunter)
Christopher Columbus Button?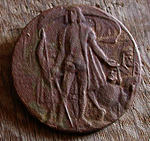 Is this a cool button or what? It looks like Christopher Columbus! When I first found it I thought it was a half dollar coin. It's made of copper, and about an inch and a half in diameter. It has a small round hook on the back and no writing.
This is the only interesting thing we found last weekend. It was under the rocks about 6 inches down, in waist deep water at low tide. We know there is a lot of stuff in those rocks, but man, are they tough to dig. (Cuda)
Silver What is it?

We had quite a few miscellaneous finds over the Memorial weekend. Here's some of our favorites. The one on the left here, we have no idea what this decorative piece is off of. Carol was gridding the beach in a circular pattern, when she found it. We thought at first it was copper, but have since realized it is silver and should on a Silver page.

The bottom picture is another decorative piece. It's cool looking and made of copper. On the back was a flat piece of solder or something. It fell off when I touched it. (Spectrum XLT/beach & jewelry mode/Garrett/Cuda)