Lincoln cent, Wheat Ears reversed
These cents are commonly called wheaties. Here's some information that you might not have known about them. We seem to find quite a few, and there seems to be just as many in the water as there is on the land.

My wife particularly likes to find them, she's still looking for an obsolete 1943 copper. The first wheat we found was in a state park on the beach. We always wonder why we haven't found any 1943 steel cents. Does the salt water eat them up?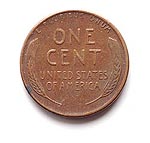 History: Victor D. Brenner designed this cent which was issued to commemorate the hundredth anniversary of Lincoln's birth. The designer's initials VDB appear on the reverse of a limited quantity of cents of 1909. The initials were restored, in 1918. The Lincoln type was the first cent to have the motto IN GOD WE TRUST.
Owing to a shortage of copper during the critical year 1943, the treasury Department resorted to the use of zinc-coated steel for our cents. No bronze cents were officially issued in 1943, in error a few were struck though.
The same with the 1944 cents some, in error, were struck in steel. Minted 1909 to 1958.