Barber Quarter
Our first Barber quarters, an 1893 and a 1915. Both found the same day!
We heard about a beach in RI that had an amusement park years ago. Several of the club members had found good stuff there.
So we decided to take a weekend, and go check it out. Well, needless to say, we are delighted with what we have found, and it was all old stuff!
No modern coins, pulltabs or bottlecaps. Amazing!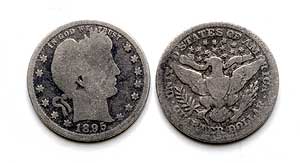 History: These U S quarters were designed by Charles E. Barber. The Barber or Liberty Head type quarters were minted between 1892-1916. The most valuable being an 1896s.