Flying Eagle cent
This coin may possibly the oldest we have found, NOT! Check out our large cents. Even though this Flying Eagle cent is in poor condition, you can still see the date of 1858. We feel fortunate to have found this Flying Eagle considering they were only made for 2 years. Ours appears to be the small letter variety.

History: The Act of February 21, 1857 provided for the coinage of the small cent, and made uncurrent the coins of other countries, particularly the Spanish and Mexican dollars. The new cents weighed 72 grains. Composition, 88% copper, 12% nickel.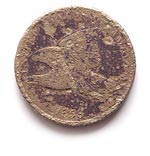 The 1856 Eagle cent was not an authorized mint issue, as the law governing the new size coin was enacted after the date of issue. It is believed that about 1000 of these were struck. They are properly referred to as patterns.
Collectors are advised to inspect any 1856 Flying Eagle cent carefully. The 1858 cent is found in two minor varieties. The A and M in the word AMERICA are joined in the large letter variety and separated in the small letter variety. The reverse design of the eagle cents is dominated by a wreath of corn, wheat, cotton and tobacco. Minted from 1856 to 1858. The most valuable being the 1856 in EF40.