Indian Head Cent
Our ever-growing collection of Indian Head cents. Most of the ones we find are not in great condition, especially the ones we find at the beach.
Our first Indian Head cent was found on a walking path to the waterfall at Indian Well State Park. The winter ground was still frozen. It was six inches deep and pretty hard to dig out. We have one Indian Head that is clipped at the bottom and we think it is a planchet error.
History
The small cent was redesigned in 1859, and a representation of an Indian girl was adopted as the obverse device.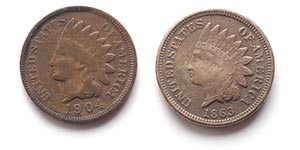 The 1859 reverse was also changed to represent a laurel wreath. In 1860 the reverse was modified to display an oak wreath with a small shield at the top. There are three varieties: the first type a Copper-nickel, Laurel Wreath Reverse (1859) Variety two: Copper-nickel, Oak Wreath w/shield (1860 to 1864) Variety three: Bronze 1864 - 1909 During the year 1864 the alloy of the cent was changed to 95% copper and 5% tin and zinc.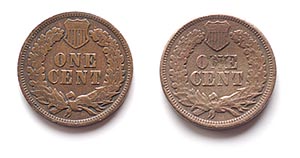 The weight was reduced to 48 grains, resulting in a thinner coin than the so called white cents of 1856-1864. The design remained unchanged. Before 1864 cents did not have the designer's entitle L on the bonnet ribbon; late in that year the letter appeared on only a small quantity.
The initial appeared on all dates of Indian cents thereafter. L is the initial of the engraver, Longacre. Indian Heads were made from 1859 to 1913. The most valuable are the 1869 and 1872.
Also read about Large Cents