Relic and Beach Detectors
On this page we'll try to give you some information about the metal detectors we have used, or are still using while treasure hunting. Including the pros and cons for each one, and some tips how to use them.
All these metal detectors are good for beginners. Learn more about Metal Detectors from user submitted reviews.


Whites Spectrum XLT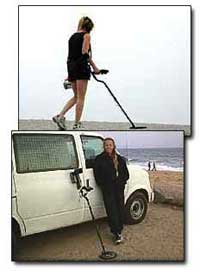 When we started this hobby it took us quite a while to make our choice on which metal detector to purchase. On January 31, 1999 we found a local dealer and bought a Whites Spectrum XLT. At the time it was considered one of the best machines on the market, yet simple enough for a beginner to use.
Later we found out that the Spectrum XLT has been on the market since 1995. So it has withstood the test of time.
The learning curve wasn't as bad as we thought, we did have to eventually read the whole manual through several times. We started using the Spectrum XLT at the beach in Jewelry/Beach mode. After awhile we got tired of the icons, and decided to try the Relic mode. We dug everything just to see what it was. And this is how we learned to read the signals.

Relic mode turned out to be our favorite mode, because of the extra depth it gave us. But we have found that this mode won't work on some beaches, because of the black sand, too many targets, or hot rocks, so we switch it to Jewelry/Beach mode.
We haven't had any problems with the Whites Spectrum XLT for 2 years now. We have also learned to take it with us wherever we go. Once we went to a wedding in Niagara Falls, and didn't take the Spectrum with us, and wound up being sorry we didn't, because a lady at the wedding lost a ring her grandmother gave her.

White's Pro XL 6000
We bought this White's Pro XL metal detector because we both wanted to search the land, and sometimes we couldn't get into the water. Why did we choose the White's Pro XL 6000? We liked the looks of it, and the fact that you didn't have to scroll through lots of buttons to change something, like you do on the Spectrum XLT.
It takes a little getting used to the Pro XL 6000, but it has worked out fine for us. My wife has come along behind me when I was using the Spectrum XLT, and found things with it that I missed. I feel the Pro XL has a little more depth than the Spectrum.
One thing bad about my Pro XL unit is that the knobs are loose on it, and when I adjust something, I have to be careful not to hit it with my arm, because then I have to reset it. So I put a rubber band around the knobs to keep them from moving so loosely. I don't know if this problem is the same for all the Pro XL's.
Fisher 1212 X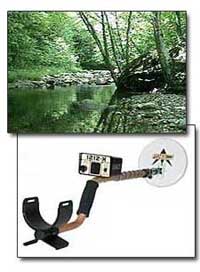 This Fisher 1212 X turned out to be a nice little metal detector for us.
We bought it because we needed another relic detector after we sold our Spectrum XLT.

It's a basic turn on and go metal detector, suitable for beginners and for competition hunts.
Because of it being light weight, you can detect longer without getting tired. The solid coil took some getting used to because we always had the open coil.

Carol was pleased with it because she found her first large cent with it metal detecting on a riverbank. We've used the Fisher 1212x on the beach too with no problems. A nice little standby metal detector.
Garrett Treasure Ace 100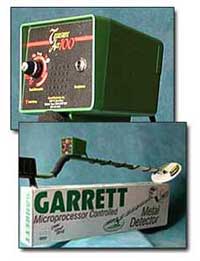 This is Garrett's basic metal detector model in their line of detectors. The Garrett Treasure Ace 100 costs about $125.00 and is simple to use, yet it will take you some time to be able to discern the different tones that it makes. We didn't have to buy this metal detector because we won it at a competition hunt.
One thing that Carol liked about the Garrett Treasure Ace 100 was that the stem breaks down for even a small child to be able to use. She can even crawl under porches and bushes with it.
Since it doesn't have target ID, the best place to practice with this model of detector is at the beach.
Basic metal detectors work really good for competition hunts since everything planted is on top of the ground and you dig everything that beeps because it is going to be a prize.
Tesoro UMAX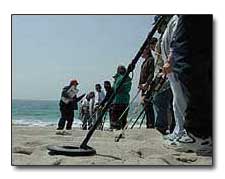 So we finally get to try a Tesoro. This is our latest metal detector purchase. We bought it at a competition hunt because we were short a detector. Well, it worked real good that day at the hunt even though I was just learning how to use it. I found a lot of the buried keys for the treasure chest, but alas, none of them fit. The Tesoro runs at a different frequency than other metal detectors, which makes it good for competition hunts.
Carol has been using the Tesoro a lot down on the riverbank. Because of the fact that it has an 8 inch open coil, she is able to get between all the nails and iron better to find some goodies. She came home with another large cent last weekend. Incredible.
The Tesoro Silver UMAX metal detector is lightweight and easy to use. It uses one 9 volt battery. The important thing to remember is, to turn it off. We also found it is difficult to use in parks, unless you want to dig everything.