Tips on Cleaning Your Finds
When you start finding those old silver coins, you probably wonder how to clean them. There are several methods that we use to clean our finds all the time, and we would like to share them with you in simple, easy to understand directions.
NOTE:
DO NOT CLEAN OLD COINS THAT YOU SUSPECT ARE VALUABLE!
It will cut their value in half! Ask a local coin dealer first.
Baking soda method
This is a very easy to do cleaning method. However, it doesn't work on everything, and it is mostly used to clean old silver coins that you find in the ground.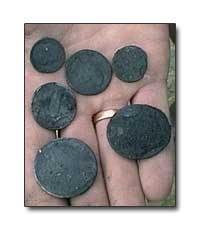 Just wet the coin and dip it in some baking soda and clean it with an old toothbrush. This will take the tarnish off, and make your coin shiny without scratching it.
Tumbling method
Use a rock tumbler if you want to clean lots of old coins at once! All those clad coins you've been finding! It will cost you around $60.00 for a rock tumbler, or you might be able to find a cheaper one on Ebay.com (But try not to get the plastic ones, they make too much noise while tumbling.)
Cleaning copper pennies/copper
White vinegar makes an awesome penny cleaner.
Put the pennies in a plastic drink container (a half gallon apple juice container works great) with a screw-on top and fill past the pennies with straight white vinegar. Screw the cap on and shake shake shake. Leave sit overnight. Rinse with clean water until the water doesn't come out murky. Please pass this suggestion along to fellow detectorists as it's about the best penny cleaner I've ever used!
Submitted by Jim M.
How to tumble old coins
Next time you go to the beach gather some small pebbles and some sand. Put your coins in the tumbler, add the pebbles, and about 2 tablespoons of the sand to make the tumbler about 3/4 full. Fill with water (to a little below the top of the pebbles) and add a touch of liquid detergent. Put the lid on and shake it to distribute the coins and pebbles evenly.
Let it tumble for about an hour. Open it up and drain off the dirty water. Refill with clean water, add a touch of liquid detergent and tumble for another couple hours or overnight.
Open it up and pour into a strainer or screen that has holes large enough to let your pebbles and sand fall through, but not your coins. Rinse the coins well, and spread them out on newspaper or an old towel to dry. We tumble brass and copper things that have corrosion on them too, like buckles and buttons and keys, etc. Some people like to separate their copper coins from their silver coins when they tumble them. We have tried it both ways, and if you decide to tumble them together, don't let them tumble too long, or your silver (or clad) coins will turn a permanent copper color.
From Paul Andreasen:
A much better way to prevent damage and wear (even new coins need TLC!) is to use the vibrating "tumblers" used by reloaders. They use a media either of ground corncobs, or crushed walnut shells, or a combo of both. These take off a LOT of crud without hurting the solid coins themselves. I have been cleaning coins (from 29 years in business and 5 KIDS!) for decades that way, and they wind up shiny as new with NO dents, scratches or removal of material. Stones or pebbles WILL take off material regardless of how long they tumble, but the vibratory cleaners (also cheaper) and the media mentioned could be run and just forgotten for weeks or howeevr long you want with no damage beyond getting cleaner and shinier.
The tumbling with virbritory gear and media, I have been doing for almost 40 years! It is the only non intrusive method of cleaning anything I have ever found to work for "almost" any application. "Gummy" things don't do well because it sticks the media together, but anything dry... Wow! After all, reloaders are worried about even a few grams difference in their soft brass cases (well, the accuracy buffs are), so they needed something to absolutely clean cases (a speck of crud as little a .001" can cause a burst case or even harm a firearm) without harming or abrading them.
Electrolysis method
When we first tried to find information on how to build an electrolysis unit, we couldn't find much and it was confusing on how to do it.
After joining a club, one of the members showed us how it's done. We think this is the simplest, easiest method.
And to make it even simpler for you, we made a step by step tutorial with pictures. Most components you probably have around the
house.

Click Here to start the tutorial.
Ammonia method
Fill a small jar with ammonia, add your gold or silver items, put on the lid and let sit for awhile. Open it up later and polish each piece with a soft cloth. This works best for gold. We have tried old silver coins that we found in the salt water, but afterwards you need to use the baking soda and a toothbrush also to get all the black off.
Jewelry Cleaners
There are plenty of cleaning methods and products out there for cleaning your silver and gold rings, some of them can cost you a pretty buck, and others are no more then a couple of dollars. Here is a few products that we use all the time that you may want to try for yourself.

NEVR-DULL is a cotton wadding polish that cleans and polishes all metals including:
silver, gold, brass, copper, pewter, glass, steel, aluminum and chromium.
Removes rust and tar, leaves no deposits in the crevices of metal work.
Directions: Tear off a small portion of the wadding and rub the article to be cleaned until all dirt is removed. Then finish with with a dry, soft cloth to obtain a brilliant, lasting luster Nontoxic, and we only paid $5.99.
BLITZ Jewelry Care Cloths
This polishing cloth is the best way to brighten your silver or gold rings and chains. They already have the polish in the cloth! It is two pieces of soft cloth sewn together in the middle. One cloth has the cleaning agent and the other cloth is for buffing. We were recently introduced to these fantastic little cloths at our club meeting. The best news is that they are so affordable, costing only about $2.99, and you can get them at Walmart.

Blue Magic Metal Polish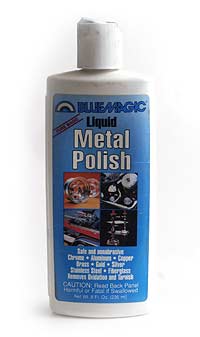 This is a product we use all the time to clean our gold rings and other jewelry. Safe and nonabrasive, removes oxidation and tarnish. Works on gold, silver, chrome, aluminum, copper, brass, stainless steel.
It kind of reminds me of toothpaste. Blue magic liquid metal polish works like magic on virtually every surface.
Directions:
Shake well. Apply small amount with soft cloth. Rub until a black film appears. Buff off with a clean soft cloth or buffer. Blue magic leaves a protective film. We paid $3.99 for it.
Buffing Wheels
If the rings have a lot of scratches, you may want to invest in a buffing wheel to do a better job. There are many different wheels and polishing compounds to chose from. Medium soft wheels work good for me. I have a soft wheel as well but find it too flimsy and takes forever to get a nice luster.
I got one at Home Depot for about $50.00. I have a grinding wheel on one side and a buffing wheel on the other. Very handy tool to have around the house anyway.
Read our new page with some information about silver, silver coins,
and another method of how to clean old silver.