Find Gold with a Metal Detector
These are our first gold jewelry finds, located with our Whites Spectrum XLT detector.
14k Wedding Band The 2nd week that we got our Spectrum XLT, we went to a local park to check out the beach. We didn't have much luck, except for a few tokens and clads. There is a lot of picnic tables but the whole area was just one BIG BEEP!
It was starting to get dark, so we decided to head towards our car. We were walking across a field, scanning as we were walking, and it went Beep, beep-beep. We thought, Okay, just one more dig, probably a pulltab (as if we already didn't have enough!) The ground was still frozen, but it was only 1.5 in. down. What a surprise when we pulled out our first golden pulltab which turned out to be a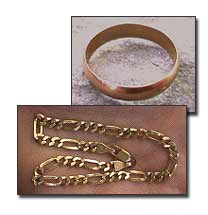 14k wedding band! Our first gold ring. WOW! Treasure hunting is so much fun. (Whites XLT/Relic mode)
14k Gold Bracelet
The next evening after work, we couldn't wait to go back to the field and do some detecting. We only had a couple of inches of thawed ground (you know what it's like detecting in January). We just bought our new detector, plus finding the gold ring really encouraged us. After searching the lucky spot, we didn't find anything interesting besides coins, so we decided to check the middle of the field.
We got a signal that sounded like foil. We didn't know whether to dig it or not because the signal was pretty weak and little pieces of foil that lay on top of the ground usually read really deep(about 7.5 inches.} So we thought, Oh well, let's just dig it. We cut out a piece of ground and broke it in half, and ooh... there it was, a nice 14k gold bracelet. (Found with Whites XLT using Relic mode)
Gold Religious Pendent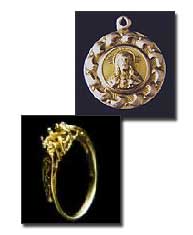 Finally it's Saturday! We have all day long to search for gold! Is there more we're wondering, or did we find it all? The field is about the size of a soccer field, and we're beginning to think it's never been searched before. Can this be true? It could be, we found this gold pendant right away.
This religious pendant is made out of two different types of gold, a rose gold and a yellow gold, and is the size of a nickel. There's a picture of Jesus on one side and the Virgin Mary is on the other. We tried to look for the chain, with no luck. (Found with Spectrum XLT using Relic mode)
14k Gold Ladies Ring
We went back to our field tonight hoping to find some old silver coins. We started detecting in the center of the field, which is actually a place for parking boats and trailers, and then started a cross pattern grid. When we pulled this ring out, next to a big puddle, we cleaned it off and the big stone was missing! But wait, there are four little diamonds on the sides.
We took the dirt home that we found the ring in, hoping that the stone would still be there. But alas, it was not. Anyway, everything we have found in this park so far seems to date from the 1950's and up. (Whites XLT/Relic mode)
Man's Gold Signet Ring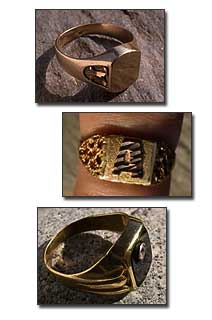 On my wife's birthday we went back to the field, just knowing that we would find something special. We only had an hour and a half to hunt before dark. What can you find in an hour and a half? Well, after hunting a half an hour in the field, we found this nice man's ring. It's 14k gold, but not very large.
Do we have beginner's luck? Or is it a lucky field? Maybe it's just a nice detector. Anyway, we're having fun, and that's the main thing. It sure was cold out though. (Found with Whites XLT using Relic mode)
Gold Baby Initial Ring
We found this gold baby ring at the beach in the same park. We tried the picnic area, but we didn't find much because it's pretty trashed, thousands of bottlecaps and pulltabs. When we get tired of digging dirt, we head for the sand. We were detecting around the area where we found the tokens, and we found this little spot with a bunch of dimes and pennies(they were pretty deep, about 5 inches)
After pulling all the coins, we still had something whispering there, like a small half signal. It was about 7 inches down. This find taught us to dig everything on the beach. (Found with Whites XLT using Relic mode)
Man's Gold Onyx Ring
We went back to our field, and wasn't finding much. We checked over by the restrooms, and there wasn't anything except a nickel. Evening was coming quickly. We were resting by a fence trying to put aside our disappointment, when Vlad jokingly said, Okay, let's find a gold ring and then we'll go home.
We started walking in the direction of the car, and about 30 seconds later, we got a steady gold signal. I bent down to start to dig the target after he pinpointed it, and to our surprise, it was laying right on top of the ground in the center of the loop. We were amazed and happy, and couldn't leave right away either. (Found with Whites XLT using Relic mode)
Small Gold Wedding Band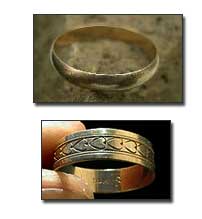 We had nothing to do one evening and the weather was starting to get nicer, so we decided to go and do a quick treasure hunt at the city playground, and pulled out our second gold wedding band from about 3 inches down, not far from the slides. How did we miss it on our last hunt there? Proof, you can't find it all, even when they say it's hunted out. The hard thing about searching this playground is the wood chips. The Garrett Probe came in real handy. (Found with Whites XLT using Relic mode)
14k Heart Band
We were detecting on a beach, and decided to try the water's edge. We couldn't go very deep because all we had with us was a shovel and it's hard to dig out wet sand with a shovel. You just have to kind of scoop it toward the shore. After five minutes of pulltabs and bottlecaps we pulled this out, a 14k gold band with hearts around it. Our first water find! All we had been finding today was clad, so needless to say, we were delighted, but where's all the old coins? (Found with Whites XLT using Relic mode)