Metal Detecting Tips
These metal detecting tips were written from our own experience at detecting, to help you to locate more and better finds. We have so many metal detecting tips, we separated them into categories.
Beginner Metal Detecting Tips - The Beginner Metal Detecting tips would be the best place to start if you are new to the hobby of metal detecting,

Beach Metal Detecting Tips - Beach Metal Detecting tips has information on how to take advantage of the beach washes, channels, wet sand, and beach erosion situations.

Relic Hunting Tips - Relic Hunting tips is for coin shooters and relic hunters, to help you successfully locate relics, and find good places to hunt.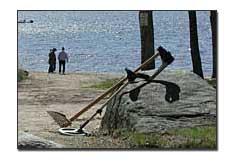 Water Hunting Tips - The Water Hunting tips are basically for salt water hunting. You need to learn the beach, and how the sand moves.

Vacation Travel Tips - Our latest addition to the tips page is the Vacation Travel Tips. Are you planning to go on a vacation? These useful tips will help you have a successful trip. A lot of people like to take their metal detectors with them when they travel.
More Tips for you
This next section is some articles that were included in our newsletter. We discontinued the newsletter but felt the articles were worth keeping and have added them here on the tips page.
Gridding the Beach - Maybe you have never heard of "Gridding the Beach." If you are a beach hunter you may find this information very valuable.
Detecting in the Rain
- Detecting in the rain can be fun and interesting too. Your detector seeks deeper targets when the ground is wet.