Connecticut Copper Coin
It sure would be nice if this was a valuable US coin, but alas, there seems to be a lot of them around.
This morning, since we hadn't planned on detecting a beach anywhere, Carol decided to go back out to a small city beach.
Last year she had found a Large Cent not too far from a marina, so she wanted to go check it out again since we had some local flooding this past winter. When she left she announced, I think I'll go find a Large Cent. I said, Find a silver Reale too. About 2 hr. later she returned and when I put my hand out for the goodies, she dropped this in it along with a British half cent, and a 1907 Barber dime.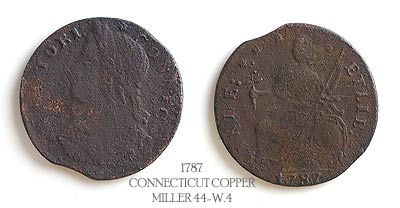 The story goes like this. She had gone to the river, parked, and went to the area where she found a Large Cent. She said her first good target was the British half cent. Knowing that it was larger than a quarter she knew it was something good, but it is pretty worn so she just dropped it in her pouch. Next, she found a clad quarter, a zinc penny, then a musket ball, and then a colonial button.
She went back to rescan the previous area, and came across another good target which turned out to be the Connecticut Copper. She dropped it in her pouch thinking it was a Large Cent, so when I looked at it when she got home, she was shocked to hear me say, You found a Connecticut Copper! She was using the Whites Pro XL6000 which is the only land detector we have right now. We spent all afternoon trying to identify the CT Copper, and finally found it on a real nice website for old coins, with pictures and descriptions and prices. Check it out. CoinFacts.
History
The state coinage of copper cents began with New Hampshire, 1776; Vermont and Connecticut, 1785; New Jersey, 1786; New York, 1787; followed by others until April 2nd, 1792, when President Washington signed a law to establish a United States mint, which went into effect at once. On September 1st the first six pounds of copper were bought for coinage. On September 21st, three coinage presses arrived from Europe and early in October, 1792, the first half dimes and a few copper cents patterns were struck by the new United States mint.
Authority for establishing a mint near New Haven was granted by the state to Samuel Bishop, Joseph Hopkins, James Hillhouse, and John Goodridge in 1785. Available records indicate that most of Connecticut Coppers were coined under a subcontract by Samuel Broome and Jeremiah Platt. Former New York merchants. Able Buel and James Atlee were the principal die-sinkers. Connecticut Coppers, especially those dated 1787 and 1788, were usually crudely struck and on imperfect planchets.
Coin WebsitesThe Value of Money
National Gold Exchange