Metal Detecting Ghost Story
Arriving at Moodus, CT
In the middle of October we were invited to go to a Metal Detecting "Competition" Hunt being held in Moodus, CT The "National Metal Detecting League" was hosting this event, and it was to be held at Catholic Retreat Center in Moodus called "Our Father's House." This was a two day event.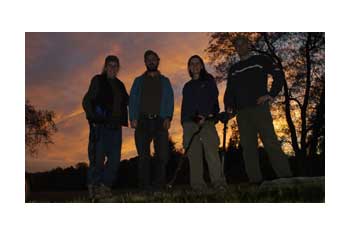 We had heard that Moodus, CT is haunted. By haunted, I mean that residents of Moodus had reported strange noises and rumblings occasionally to the authorities, and it was explained as being "wind rushing through the trees" or "wind in the caves." We were curious yet excited, because we had never been to Moodus before, and always wanted to go visit.
We arrived at the camp, late Friday night, and there was no one around to be found. Knocking on a couple of the cottage doors, we fortunately found a member of the staff that directed us to the cottages where other metal detectorists were staying.
The Next Day
In the morning, it was cold and clear like any other Fall day would be. We headed to the cafeteria for a good breakfast and to get the agenda for the day. The agenda consisted of an all day "what you find is what you get" open hunt. We were allowed to hunt anywhere on the property we wanted, even in the woods. But we were all to report back to the meeting hall at 3:30 to see what everyone had found.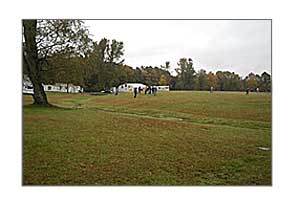 "Our Father's House" Spiritual Retreat Center sits on 62 acres, and the property dates from the early 1800's. There is a big farm field in back of the cottages, and then acres of woods. We detected all day, and not finding much, returned to the meeting hall at the specified time. Other people had found some cool stuff, a couple of rings, old coins, and an assortment of rusty farm equipment.

Vlad and I moved our belongings into the cottage we were suppose to be in, and became friends with a couple from Albany, New York staying in an adjoining room.
We all met together for lunch, shared some stories, and had a chance to meet everybody else. Then everyone left to go do some more hunting.

Later we returned to the cafeteria for supper. And I would like to add, that the chef and staff were very hospitable, the rooms were cozy, and they presented us with a variety of delicious meals.