Civil War Army Military Ring?
Is this a Civil War Artillery Ring? We recently got an e-mail identifying this ring as very possibly being from the Civil War. Here's what the e-mail said:
Your gold military ring has crossed cannons on it which was the symbol for artillery from the Civil War to WW1. It's probably from between 1870 and 1920. It is very unique and I have never seen one before.
Thank you James for taking the time to send us this information, and for letting us post it on our website.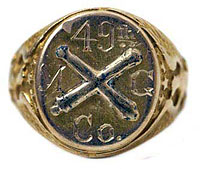 We believe this information that James has sent us is very true. We found this ring on a very old beach in Rhode Island, that dates back to the 1800's. Many old rings from this period have been found there, along with numerous coins. We thought the ring was originally from World War II, but knowing it's from the Civil War makes it priceless.
On the inside it is inscribed, "Dad to John" in script writing. See the picture below. This would mean that Dad was the Civil War Vet and gave it to his son, John, which his son probably lost while swimming. As you can see part of the back is missing. The ring is cast in 10 karat gold and stamped OB 10k We haven't seen a ring like this anywhere else.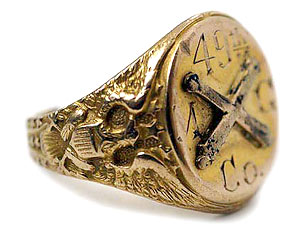 We have recently recieved more information on this interesting gold ring.
"Hello, The indenfication of your ring is accurate to some degree, but its not civil war.... It is World War 1 the 49th Division was in the Ypres area of the Western front.
The crossed Cannons on the ring were a standard Army insignia representing the The Field Artillery Now of the part the you can check on IF you need any confirmation...... the M.G. stands for Machine Gun (WW1)...
The ring unit would read 49th Division Field Artillery Machine Gun Company
The 49th Division was a Calafornia National Guard Unit. The 49th was involved in some major battles in WW1.... Interesting Reading if you have the time.....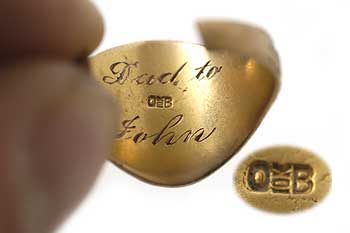 Good Hunting /Stay Safe, S. Matthews
Thanks Mathew for this information. We have been searching for a long time.
Submitted by Denny Wong:
The o.b. initials are for Osteby & Barton Co. Started making gold rings in 10k in 1900. That ring pictured on here looks to be 1910-1920`s. But here are some corrections: The name Osteby is spelled Ostby, started making gold rings on July 1, 1879 not 1900. Eventually became the largest ring manufacturer in the nation at that time.
Thanks Dany!
If you have any information on the 49th MG Company or this Military Ring please let us know and we'll add it to this page.