Gold US Navy Ring
I decided to devote a whole page to this Navy ring because it is unique and hard to find. We're not really sure how old this Navy ring is, but because of the design and quality of the ring, we suspect it to be from the World War II period.
The newer US Navy rings are made of two pieces. This ring is cast as one piece.
As you can see by the smooth sides, that it is well worn. There is an eagle and plane on the sides. The Eagle sits on an USN shield which stands for United States Navy. The design is the same on both sides.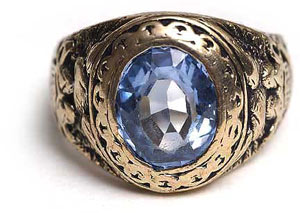 The Aquamarine stone is a keepsake of "Man at Sea." The stone is surrounded with an "anchor chain."
Where would you go to buy such a ring? Several people have emailed us asking if we would sell it. We do sell some of our rings but this one is definitely a keeper. Something about it, makes it different from any other ones we have found.
The ring is stamped CRAFT 10k. That is all that is on the inside. We haven't see this design anywhere else on the web.
If you have any information on the design of this US Navy Ring
please let us know and we'll add it to this page.