Our Bottles and Bottle Stoppers
This is a collection of some of our nonmetal finds. Whenever we metal detect and are digging, sometimes we get a surprise of something nonmetal. The bottle stoppers have a piece of metal in them because of the bail, but everything else is pretty much just a cool collectable find.
Antique Bottle Stoppers
Have you ever seen bottle stoppers before? When we first started to find them at an old beach, we didn't know what they were. Then a club member told us they are antique bottle stoppers for old bottles. They are made out of porcelain and probably had cork or rubber on the bottom and a wire on top. We're not sure yet when they were first used, we e-mailed the Little Rhody Bottle Club for information and their reply is below: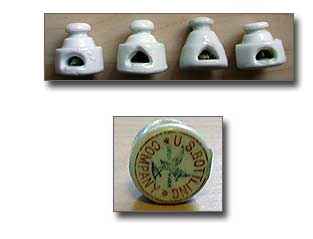 Hi Vlad and Carol, These are common porcelain bottle stoppers which had a rubber washer and wire which was used as the bail & closure on antique blobtop and crowntop soda and beer bottles. Most of the bottles were clear glass about 10 tall and had embossing to match the names on the stoppers. Many of the stoppers have a patent date of FEB. 7.1898 or so,PAT'D by K.HUTTER. This is sometimes legible on the tip of the stopper.
I have examples of all the bottles complete w/bail & closure with the names of the stoppers you mentioned. Although the stoppers have almost no value it is always exciting to find one with a name. I have a box full. One collector I know made up a display board with cardboard to mount them like buttons. Hope I've been of some help. Keep detecting, you may find a super bottle from a shipwreck such a pancake onion with a glass seal. Have a good weekend. Arthur
Old Bottles Found
Here's some of our bottle collection. Most were found at what was apparently a bottle dump by a beach. We like finding old Coke bottles the best. But we like the little medicine bottles and the milk bottles too. The unusual shaped perfume bottle in front is still full of sand. My wife found it when she was digging a target. It was in the same hole. She was glad she didn't break it. How do you get the dirt out of beach glass? This is what we tried. Boil them in a pot, then add a squirt of detergent and stir it up, then let it sit and cool. When cool scrub each piece with a brush. Some cleaned easily, some didn't.

We started collecting bottles when I accidentally pulled out an old Coca Cola bottle when I was looking for a target. It was stuck in my scoop. The words, Providence RI was the marking on the bottom. This was in fact an old beach, and had an old pier that was long gone. The beach is not public anymore and lots of broken glass in present up on the shore.
I saw a man walking up and down the beach looking for broken pieces of seaglass. I happily donated my Coke bottle which made him real excited. Later I found several of the same Coke bottles and kept them this time. It turns out that the bottle I gave away was a hot collectable and we sold one on Ebay for $25.00. No wonder he was so excited. After that we went just to look for bottles. Keep this information in mind when you run across some old bottles. Some are going for big bucks, so you may want to bring it home just in case, especially the ones with markings on them. How much is your old Coke bottle worth? Find out on the
Antique Coca Cola Bottle
website. Telephone pole insulators are another collectible item. Also, you can visit a Historical Bottle and Glass Club for more information.