Foxwoods Casino token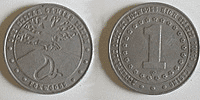 This is the first Foxwoods Casino Slot token we have found. Big and heavy, worth a pull at the $1.00 slot machines. We went to Foxwoods on my birthday and mistakenly put a $20 bill in one of the dollar machines, and then lost it all.
We were sorry we didn't keep one for a souvenir. So now we have one. I found it in the shallow water at high tide on Sunday. Read about the first Slot Machines.

Foxwoods is very popular here in CT. It is huge casino located in a nicely wooded section of an Indian Reservation, east of Norwich, CT. Lots of fun! Mohegan Sun Casino is also located nearby, but we like Foxwoods Casino better. It has some nickel slot machines.
(Cuda)
Token Websites
Roger Williams Mint
US Transit Tokens