Old Connecticut Railway & Lighting token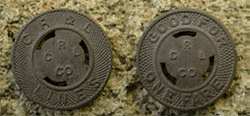 CR&L Lines Good for one fare The CR&L was originally named The Gas Supply Company, formed in 1895 to furnish gas to Southeastern Connecticut towns via the railway system. The name was changed to CR&L on Jan 10, 1901. US and World Transit Tokens
There were many leases and transfers over the years. From steam railway, to an electric railway, transforming auto carrier cars to passenger cars (heated by potbellied stoves in the winter), additions of trolley lines and streetcars, and motorized buses from the 1920's on, the height of operations being during WW2.
No mention was made of when these tokens first came into use, but I found an advertisement in a book at the library. It says, Cost of tokens...3 for 25 cents. Picture 1 Picture 2 Recently we found another railway token that is made by the same company. Sometime through the years this company was also owned or shared with the Connecticut Company. (XLT/Relic mode)
Old Connecticut Turnpike token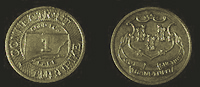 Tollbooths along the Connecticut Turnpike token often created bottlenecks during rush hour. In November, 1982, the Highway Department began selling tokens to commuters in an effort to expedite movement through the toll plazas.
The token system did not remain in use for long. In January, 1983, a tractor trailer truck collided with three cars at the I-95 toll plaza in Stratford. The decision was made to remove the eight toll plazas on the Connecticut Turnpike and the one on the Bissell Bridge by December 31, 1985. (XLT/ Relic mode)
Capital Transit Company token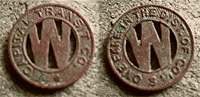 This is an old Capital Transit Company bus token from the District of Colombia which dates from around 1936. In 1974 the company joined with the Washington Metropolitan Area Transit Authority. How did it find its way to a beach in Rhode Island?

While we were waiting for the tide to go out at Crescent Beach, I was using my new White's 6000 Pro XL that we bought on Ebay last week, with the 5.3 inch coil that came with it.
(Pro XL)
NYC Transit token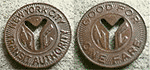 Carol was sure surprised when she found this! She was walking around scanning the sand dunes and this token was about six inches down in the beach grass roots. It's a NYC Subway Metro token, but it's larger than some that we found last year. It's almost the size of a quarter.
(XLT/ Relic mode)
Old Railway Token
Another Crescent Park, Providence RI find! A United Electric Railways Company token. We found two of these, and the other railway token was found in the water and was in better shape than the one in the dry sand. They are tokens from the trolley that was running to the Crescent Amusement Park in East Providence. Of course the tram and rails are nonexistent anymore, but the old depot is still there. Wish we could detect it, but I don't think they would let us. This token says, "Good for one fare."
(CUDA)
Token Websites
US Transit Tokens