Rakes and Beach Cleaning Machines
Beach Rakes, what exactly are those new fangled beach cleaning machines? What are these beach rakes picking up? Are they leaving anything behind for us metal detectorists?
You know these beach cleaning machines are a recent development along the shoreline towns here in New England. Someone invented a machine that picks up the trash, rakes it, and smoothes it out for the visitors to the beach. Some towns sweep their beaches every morning, some only once a week. The first time we heard of these machines was in 2002. Then a couple of months later a club member showed us an article about them that ran in the Narragansett newspaper. It said that Rhode Island was going to clean a different beach every week.
Ocean Beach Park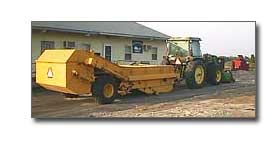 The first one we saw in action was at Ocean Beach, in New London, CT. Carol was brave enough to walk over and take a pic of the inside of it. The inside is built like a sifter. The bottom of the machine glides along the sand, the material flows over this sifter and the sand falls back through, but the junk falls into the back end of the machine via a conveyor
This one at Ocean Beach gets pulled by a tractor. Then when the back end gets full they take it over to a dumpster and dump it. I'm not sure how long they've used this method, but it is the first we have seen of these beach cleaners.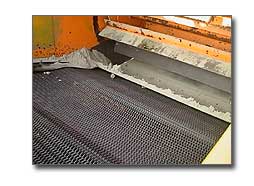 Every town apparently has a limited budget to how much they can run these machines. We found out that this one at Ocean Beach only runs once a week, on Sunday usually. How much does it pick up? We believe that it picks up everything, but some coins may fall back through if they are angled right. All the straws, cans, toys, junk, cigarette butts, lotion bottles, all go in the dumpster. On the days they are not using the machine, the workers go around with trash bags and pick things up by hand. We help them out if we can too. Next is what we saw at the Newport Beach.
Newport Beaches
Here's the beach cleaning machines we spotted at the Newport Beaches. The one at First Beach is a tractor pulling a machine behind it called a Surf Rake. It kind of rakes things up, so we believe it is not catching the smaller stuff. The red stuff you see in the photo on the wet sand is a red algae that washes onto the beach every fall, they call it red tide. When this happens the beach literally shuts down.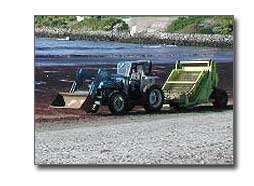 What is Red Tide? It's an invasive red algae that is spreading rapidly along the southern New England coast with unknown environmental consequences. It was first discovered in 1996 at Beavertail State Park in Jamestown, the algae is now found throughout Narragansett Bay and on Long Island. The algae is called "Grateloupia turuturu." It is a leafy red algae that can grow 4 to 5 feet tall. They suspect that the plant entered North America from Europe attached to a cargo ship or floating in ballast water that was later discharged. Since 1997, the plant has colonized Narragansett Bay and last year was found nearby in the Sakonnet River, Mount Hope Bay near Fall River, Mass., and beyond. So it is spreading quickly.
Anyway, the good thing about this type of beach cleaning machine called a Surf Rake, is that it doesn't get too close to the wet sand. It only goes to the high tide line and it misses spots up close to the walls and steps. So there are places to metal detect even if you show up after the beach cleaning machine is through. This beach rake dumps the stuff at the west end of the beach.
The bad thing about these machines is the way they smooth out the sand. Usually when you detect a beach, you can pretty much tell where people congregated, because of all the footprints. These machines erase all signs of activity from the day before.
Third Beach
This next one we located was at Third Beach in Middletown. It is basically a tractor that pulls a rake in back. They can't use a fine sifter because of all the rocks. So this machine leaves all the rocks. It goes from one end of the beach to the other and that also includes Middletown Town Beach.
This is also the same tractor that cleans Second Beach. Second beach, has it's share of rocks, is real big, and gets a lot of traffic too. It has been a popular beach for years and is more of a family beach then the others.
Roger Wheeler Beach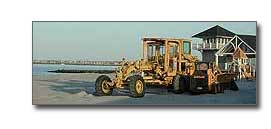 Here's what we found at Roger Wheeler Beach one morning. This was before the season even started. It was there to clean up the beach and pull the sand away from the fencing. It smoothes it out real nice and picks up everything the tide washes in.
Conclusion
So what have you learned from checking out these machines? Well, try to detect at night on the beaches instead of the morning to find more goodies. If you're on the beach while they are there, make sure you fill all your holes, or try to stay in the wet sand. If they are watching you detect, wave to them. Most are real friendly, and they really don't care if we detect as long as we don't mess up their smooth sand.
If you can find the piles where they are dumping the stuff, you may be able to locate some coins, but you have to deal with all the cans and pulltabs. But sometimes it's worth checking out, Carol found a diamond engagement ring in one of these piles. Want to know exactly what they pick up? Here's a company's website located in none other than Connecticut, called
Barber Beach Cleaners